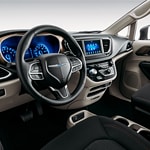 If you have not heard of the Chrysler Voyagers capabilities, you are now, and if you have, well, let me re-introduce it. The Chrysler Voyager has given a first-class performance in its design, capabilities, interior, and engine. The vehicle is dramatically versatile and functional. Let's go through its features
A 3.6L V 6 engine powers the Chrysler Voyager. It offers 287 horsepower and a nine-speed automatic transmission. Even if the vehicle is a front-wheel drive, it shocks many to discover that it can tow up to 3600 lbs. Fuel economy is a guarantee when you get this beast. Out of all minivans, it scores the highest. An ability that has won many hearts.
Away from that, the vehicle provides ample space for seven individuals and cargo. May we mention that the cargo space is more than enough? Your passengers also get to enjoy free space during the ride. Comfort is one thing that Chrysler does not compromise.