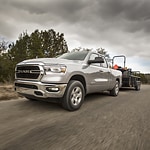 The all-new Ram 1500 comes with a host of durability features that underscore this light-duty pickup's popularity with truck buyers today. These features are designed to make driving and owning the pickup convenient and enjoyable.
For example, it comes with a cargo management system that is outfitted on the side of the pickup bed. This cargo area is ideal for storing items like hand tools and work gloves. It can be easily accessed without having to climb up in the bed. The new Ram 1500 also has a back tail gate that is unlike any other found in comparable light-duty pickups. Instead of lifting up and down like other models, this gate instead swings open from the middle. This split-open gate makes it easy to load and unload cargo without the worry of the tailgate collapsing.
The Ram 1500 also can tow more than 12,000 pounds. It can accommodate heavy vessels like cattle trailers easily.