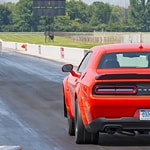 One of the most sought-after muscle cars that's in society today is the Dodge Challenger. This phenomenal machine will provide high-octane performance that's like nonother. In addition to that, the Challenger is equipped with cutting-edge technologies, and it possesses a racer-inspired cabin. Trim levels are vast, including the GT, R/T Scat Pack, SXT, SRT Hellcat and SRT Redeye.
The exterior of the Dodge Challenger looks aggressive beyond belief. This car sits low to the ground, and it possesses a wide body. Consumers can opt for customization if need be. Double hood scoops and single hood scoops are available as well as racing stripes. The Challenger is very aerodynamic from end to end. The overall aesthetics here is nearly perfect. Round headlamps are found in a beautifully crafted grille that's horizontal, and the exterior paints are vast.
Choose the Dodge Challenger as your next automobile. Our reps are here for you, so come on down for more details.